Pop-Up Notes
The Card and Spread (Description) Notes created in Orphalese can be displayed in a Pop-Up Window during a Reading by hovering the mouse over a Card that appears Face-Up on the Desktop. Use the Mouse Wheel to scroll up and down to read all notes.


Card Notes in a Pop-Up
Press the F8 function key to toggle between displaying the Little White Book (LWB) Notes (yellow) or the Personal Notes (pink).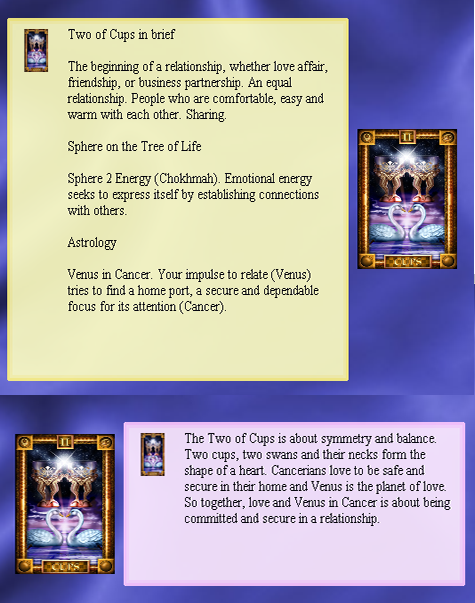 Pop-Up LWB Notes

Each time you switch from LWB to Personal Notes (by pressing the F8 function key, the following screen is displayed: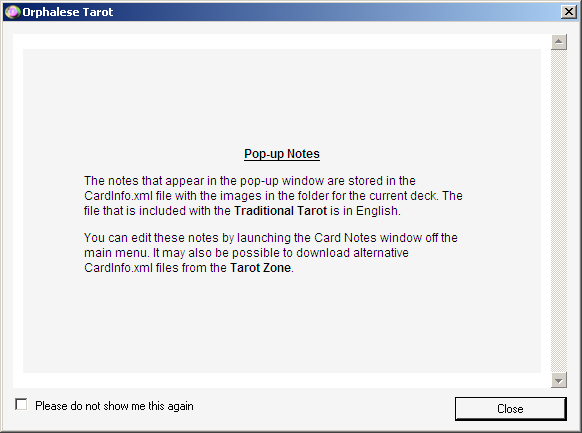 Pop-Up Message



Check the Please do not show me this again box if you do not wish the message to appear again.
Spread Notes in a Pop-Up
If the reading used a Spread that has Card Position Notes, the Pop-Up Window will contain a combination of both Notes.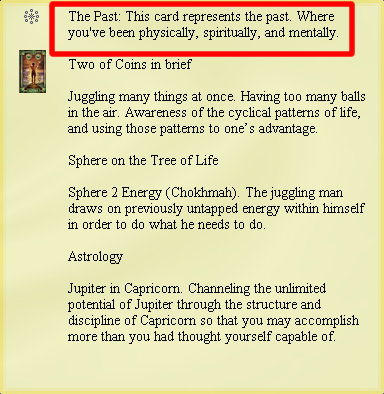 Pop-Up Notes in a Saved Reading
Reading Notes in a Pop-Up are displayed in green.
Pop-Up Reading Note



To Suppress Pop-Up Notes
If you prefer that the Pop-Up Notes are not displayed, click Function Key F8. Click Suppress Pop-up.



Card Notes
Repeat the Steps to reactivate Pop-Up Notes.
Sharing Pop-Up Notes
Upload or download Card Notes by choosing File Exchange >> Exchange Card Notes from the Orphalese Menu.
Pop-Up Notes Options
The following Settings can be changed through the Options (Cards) Tab:
Use Fade Effects for Pop-up Notes - Cards Tab

Show pop-up notes when Cards are face down - Cards Tab