Closing Orphalese Software
To Close/Exit the Program:
Press the

ESC key

; or



Click the

Windows Close X

button; or



Right-click on the

small System Tray Orphalese

icon

, then click

Close

;

or
Right-click on the

Orphalese Taskbar Window

, then click

Close

.
When closing/exiting the program by any of the above options, the following screen will be displayed: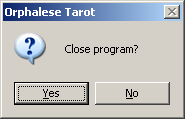 Close Program


Click the Yes button to close the program.



Close/Exit Program Settings:
The following Orphalese settings can be changed through the Options >> Program tab:
Prompt Before Closing

- Removes the "Close program" message.



Minimize to system tray when closing

- Keeps the program running in the background and places an Orphalese Icon in the System Tray.

Clicking the System Tray Orphalese Icon

brings the program back to focus

.


Note: Selecting this option automatically removes the

Prompt Before Closing

option.



Allow multiple instances of program

enables the program to be opened multiple times.