Recently Used Decks
View Recently Used and Favourite Decks.
To Open Recently Used Decks:
Press the

F11 function key

; or



From the

Orphalese Desktop,

right-click on the grid

to display the Orphalese Menu.

Click

Recently Used Decks

.

The Recently Used Decks window will be displayed.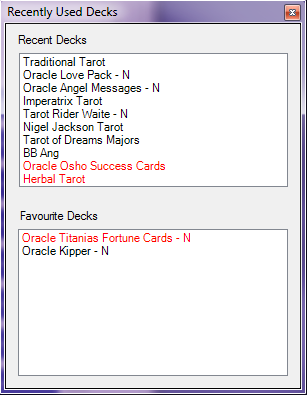 Recently Used Decks





The Recently Used Decks Window is divided into two panes:
Recent Decks - last Decks you have accessed

Favourite Decks - Decks nominated as favourites
Recent Decks
Recent Decks are listed in the top pane. Decks appearing in Red font indicate they have either been moved to a new location or deleted.
To Launch a Deck from Recently Used Decks:
Click on a Deck

appearing in Black font to open it.
Favourite Decks
Use the Quick Launch Keys to associate a Deck with a Spread. The Deck then appears in the Favourite Decks list in the bottom pane.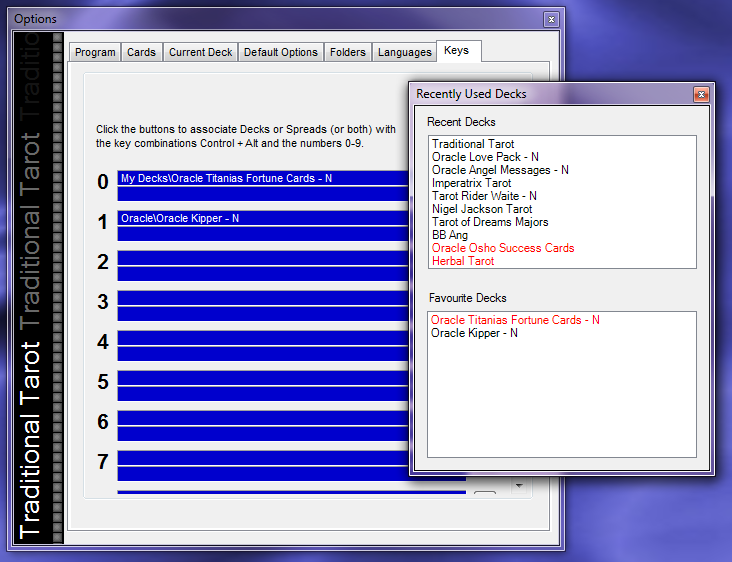 Favourites



To Exit the Deck Management Tool.
Click the

Windows Close X

or press the

Alt + F6

function key.