Language/Translation
The Orphalese website, software, and help files are available in multiple languages, thanks to the assistance of many volunteers. However, each time the website is updated and new software/help versions are released, the language translations require revisiting.

A Translation Table is available from the Orphalese Translation Web Page and shows the completed percentage of language translations.



Translation Table





Translations are managed through an online system and volunteers are offered a Registration Licence for their assistance.

The Special offer for translators is advertised via a Message on Orphalese exit.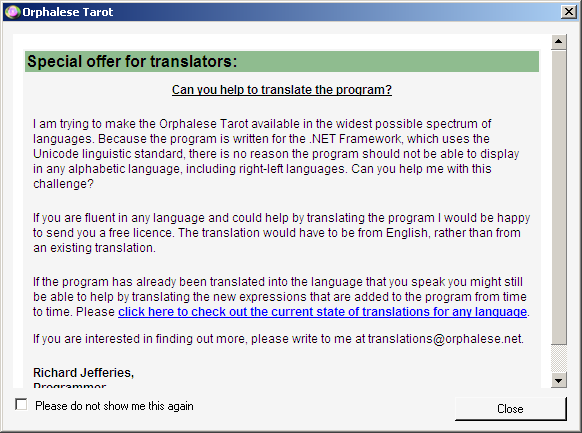 Translation Offer

The display of this message is optional and can be changed via the Options, Messages Tab Setting or by checking the Please do not show me this again box.

Translation Offer Check


Further language and translation information is available at www.orphalese.net/translations.aspx or by emailing translations@orphalese.net.



To switch between languages:
Open the Options window by pressing the

F9 function key

; or

From the Orphalese Desktop,

click on the grid

to display the Orphalese Menu, then click

Options

.

The Options window will be displayed: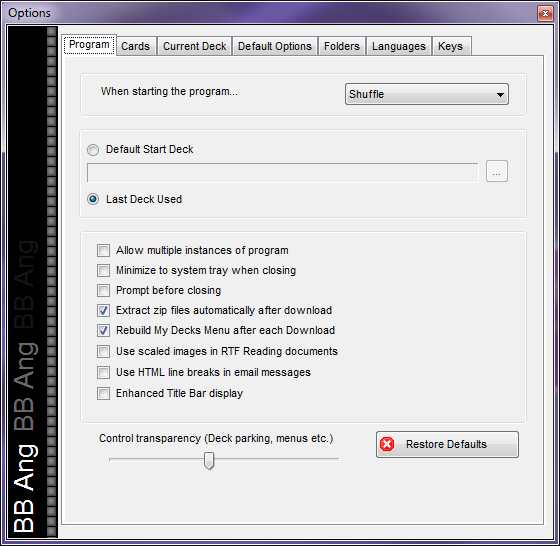 Orphalese Options - Program




Click the

Languages

tab. A screen similar to the following will be displayed: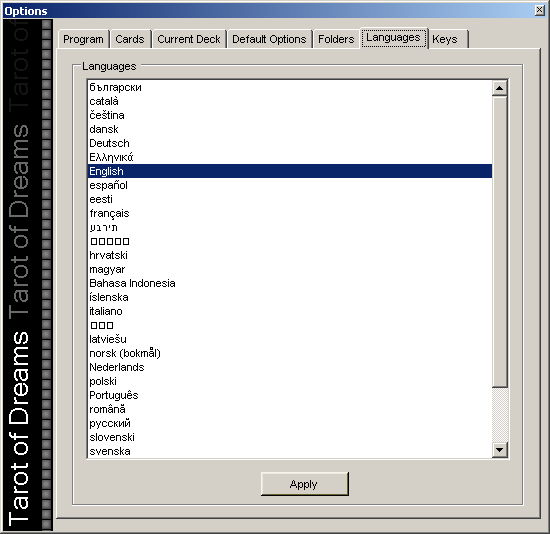 Orphalese Options - Languages






Click to

select a language

from the list.


Click the

Apply button

.
The selected language is applied immediately and remains until you reset the option.