Software Upgrades
Orphalese Software upgrades are available for all users. Check the installed version, to see if it differs from the current Evaluation Software version (which is listed at the top of the Orphalese Website Download page.



To Check the Installed Software Version:
From the Orphalese Desktop,

right-click on the Deck

to display the Orphalese Menu.


Click

About

.
A window similar to the following will be displayed: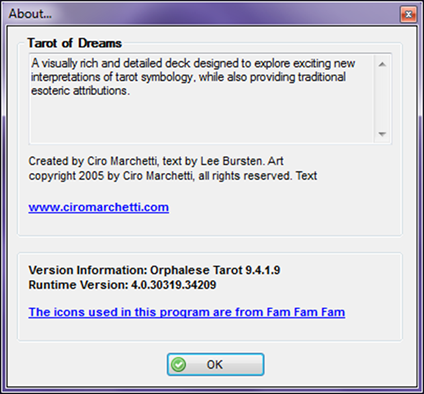 About

The About window displays information about the current Deck and the installed software version.
To Download and Install an Upgrade:
Software Upgrades are available for download from http://orphalese.net/downloads/tarotupgrade/tarotupgrade.zip

As the Installation Folders and Sub-Folders may vary for previous versions, it is advisable to Backup your current Decks/Packs, Readings, Spreads, Collections and Tiles data so that the new installation does not override existing files.

Earlier program versions stored files in the user's Program Files folder. Newer program versions store files in the My Documents folder. If upgrading from a previous version, Decks, Spreads and Readings will need to be moved to the new folder/file location in order to continue to access them. Alternatively, you can edit the Alternative File Locations in Options.