The File Exchange
The File Exchange is a tool that permits Registered Users to share files (including Decks/Backgrounds, Spreads and Card Notes). Uploaded files are cached on a central server (for a set period of time) which minimises the stress on the sharer's machine.
To Open the File Exchange:
From the Orphalese Desktop,

click on the grid

to display the Orphalese Menu. Click

File

Exchange

.


Choose from: Exchange Decks, Exchange Spreads, or Exchange Card Notes.


The Deck Exchange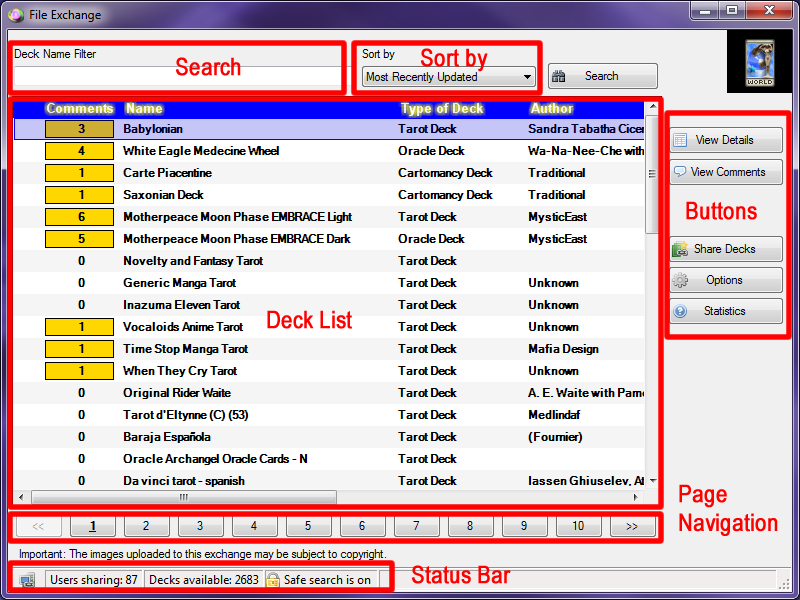 Deck Exchange
Deck/File List:
Several columns contain information about the Deck/File:
Comments (Number of comments shared)

Name (File/Deck Name)
Type of Deck (eg Tarot, Oracle, Cartomancy, Other etc)
Author (Deck Author)
BKG (Background Image Yes/No)
Notes (Card Notes Yes/No)
Kb (File Size)
Shared By (User Name)
Updated (Last Update Date)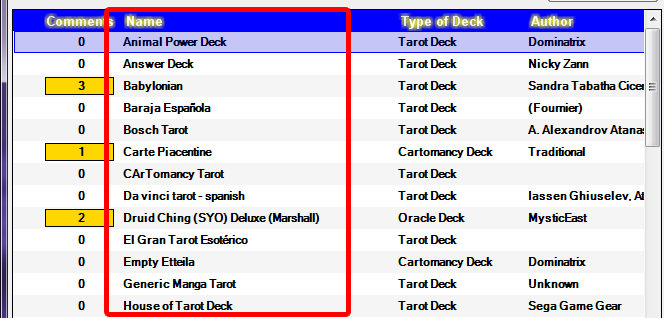 File Exchange - Decks Sort
The Files are displayed in ascending order by Name. Clicking on any of the Columns sorts that page's information in ascending order by that Column. Clicking on the Column again reverses the sort order.
The Comments Column is sorted by lowest number of Comments at the top.

The BKG and Notes Columns are sorted by Files that do not contain Backgrounds and Notes at the top.
Deck Name Filter
Use this field to search for a Deck.

File Exchange - Deck Filter





Select from:
Most Recently Uploaded
Deck Name
Latest Comment
To Search for a Deck or File:
Type the

File or Deck Name

into the Deck Name Filter field and click the Search button.
A screen similar to the following will be displayed:

File Exchange - Deck Search



Buttons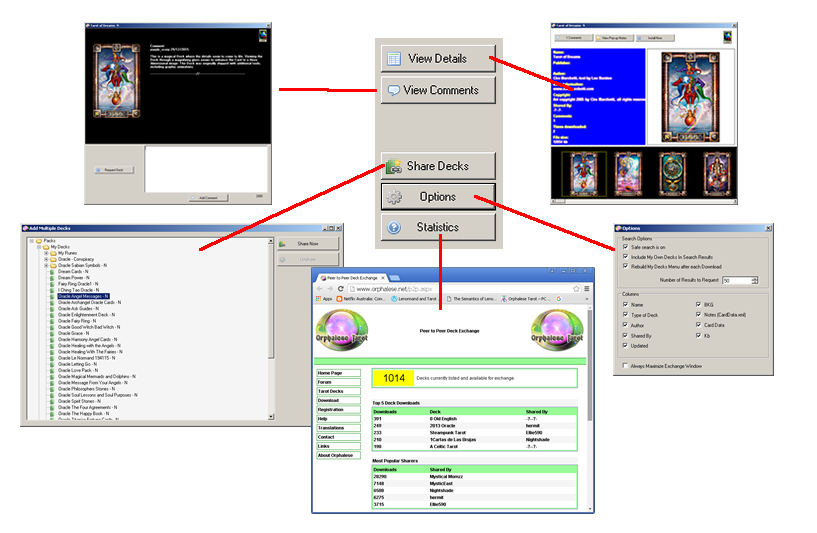 Peer-to-Peer File Buttons
The File Exchange includes the following buttons:
Page Navigation
The Number of Files/Decks displayed can be set in Options, Number of Results to Request.

Peer-to-Peer Results to Request
The first page displays the number of results as set. Click on the Numbered buttons to display the next page of results.



Peer-to-Peer Page Navigation




Status Bar
The Status Bar displays the Number of:
Users sharing
Available Decks
Safe Search Status

Peer-to-Peer Status Bar