Full Screen Mode
To maximise the Desktop reading space, switch to Full Screen Mode which removes the Windows Title Bar and sets the Windows Task Bar to Auto-Hide (hiding the Task Bar when within the Orphalese program, but showing it when using other programs).


To Set Full Screen Mode:
From the Orphalese Desktop,

click on the grid

to display the Orphalese Menu.


Click

Full Screen

.
A screen similar to the following will be displayed:

Full Screen Change
Click the

OK

button

.



Close and Restart

Orphalese Tarot Software.
Full Screen



The Title and Task Bars will no longer be displayed. Viewing the Menu displays a tick against Full Screen: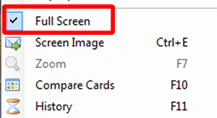 Full Screen Tick
To Navigate to Other Windows and Programs from Full Screen Mode:
Press ALT + TAB keys to toggle to other windows and programs.


To Return to Normal Screen Mode:
Repeat the To Set Full Screen Mode steps to remove the tick and restore the screen to normal mode.

Note: Orphalese will need to be closed and reopened for the change to take effect.